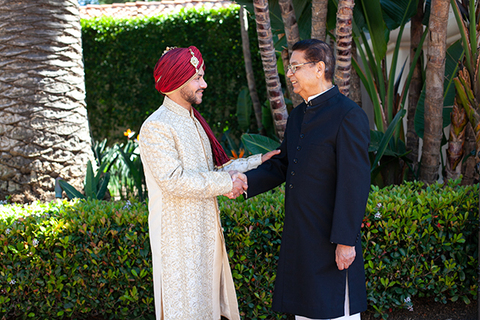 Are you attending a Indian wedding for the first time? You may be wondering how to greet some of the guests with respect. Here's a traditional way of doing just that.
Namaste is a common greeting used in many parts of South Asia, particularly in India and Nepal. The word "namaste" is derived from Sanskrit and is a combination of two words: "namah" (meaning "bow") and "te" (meaning "to you").
Namaste is often translated as "I bow to you" or "I honor the divine in you." It is a way of acknowledging and showing respect to another person, recognizing the divine spark or essence within them.
In practice, namaste is typically accompanied by placing the hands together in front of the chest and bowing the head slightly. This gesture is known as a "pranam" or "anjali mudra" and is a sign of respect and humility.
Namaste is not only a greeting but also a way of life for many people who follow the principles of yoga and other spiritual traditions. It represents a recognition of the interconnectedness of all beings and a way of honoring the divine presence in ourselves and others.