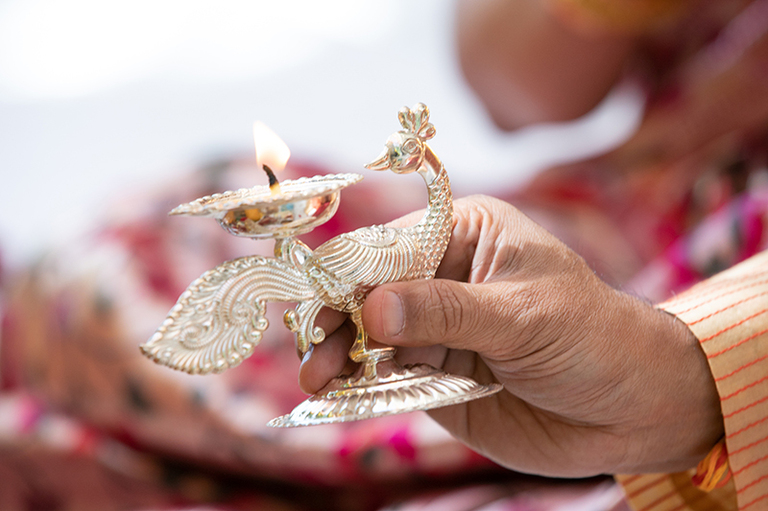 Arti, also spelled Aarti or Aarati, is a Hindu ritual that involves waving a lamp or lighted wick in front of a deity or sacred object. It is a form of worship and a way to honor and show reverence to the divine.
The word "arti" is derived from the Sanskrit word "ārātrika," which means "offering of light." It is performed as part of the puja (worship) ceremony in temples, homes, and during religious festivals.
During an arti, a lamp or a plate with multiple lighted wicks is waved in circular motions in front of the deity while devotional songs and hymns are sung. The light from the lamp is believed to symbolize the divine presence and the illumination of knowledge.
The arti ceremony typically follows a specific sequence:
Preparation: The lamp or plate with lighted wicks is prepared with ghee (clarified butter) or oil. Sometimes camphor is also placed on the wicks, which produces a fragrant flame.
Invocation: The arti begins with the chanting of mantras and the ringing of bells to invoke the presence of the deity. The participants may sing devotional songs or recite specific arti hymns.
Waving of the Lamp: The lamp or plate is moved in circular motions in front of the deity, usually in a clockwise direction. It is done by the priest or devotee leading the ceremony. Sometimes the lamp is also moved up and down or in a figure-eight pattern.
Singing of Arti Hymns: As the lamp is waved, devotional songs or arti hymns are sung by the participants. These hymns express praise, gratitude, and devotion to the deity.
Blessings: At the end of the arti, devotees may place their hands over the flame and then touch their forehead, symbolically receiving blessings from the divine.
The arti ceremony is accompanied by the sound of bells, clapping, and the rhythmic beating of drums, creating a joyful and celebratory atmosphere. It is believed that the combined elements of light, sound, and fragrance during arti purify the surroundings, dispel negativity, and create a spiritually charged environment.
Arti is not only performed in temples but also in homes, where family members gather to worship their chosen deities. It is considered a powerful way to connect with the divine, express devotion, and seek blessings for oneself and loved ones.