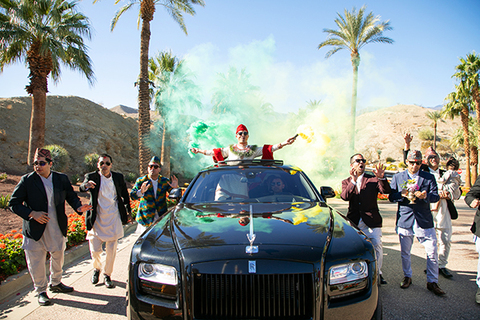 The "Baraat" is a vibrant and celebratory procession that takes place during an Indian wedding. It is a traditional part of the groom's arrival at the wedding venue, accompanied by his family and friends. The Baraat is often a lively and joyous event filled with music, dancing, and jubilation.
Here are some key features and elements of the Baraat:
Groom's Procession: The Baraat is essentially the groom's procession to the wedding venue. The groom, traditionally on a decorated horse or elephant, leads the procession. However, modern variations may include the use of luxury cars or other vehicles.
Family and Friends: The groom is joined by his close family members, relatives, and friends who form part of the Baraat. They accompany the groom, dancing, singing, and celebrating as they make their way to the wedding venue.
Music and Dancing: The Baraat is accompanied by lively music, typically played by a band or a group of musicians. Popular traditional instruments such as the dhol (drum) and shehnai (a wind instrument) are often played, creating a festive and energetic atmosphere. Participants in the Baraat dance and revel to the music, expressing their excitement and joy.
Processional Items: The Baraat may feature various decorative items and props. These can include banners, flags, umbrellas, and decorative turbans or headgears worn by the groom and his close relatives. The idea is to make the procession visually vibrant and eye-catching.
Dancing Performances: Alongside the procession, professional dancers or entertainers may be hired to perform traditional dances, adding an element of spectacle and entertainment to the Baraat.
Interaction with the Bride's Family: The Baraat culminates at the wedding venue where the bride's family and close relatives welcome the groom and his procession. There may be exchanges of garlands, blessings, and traditional rituals symbolizing the union of the two families.
The Baraat is a time-honored tradition that symbolizes the groom's journey to the wedding venue, marking the start of the wedding festivities. It is a joyful and exuberant celebration, often attracting attention from onlookers in the community or neighborhood. The Baraat allows both families to come together, create memories, and celebrate the union of the couple in a festive and spirited manner.