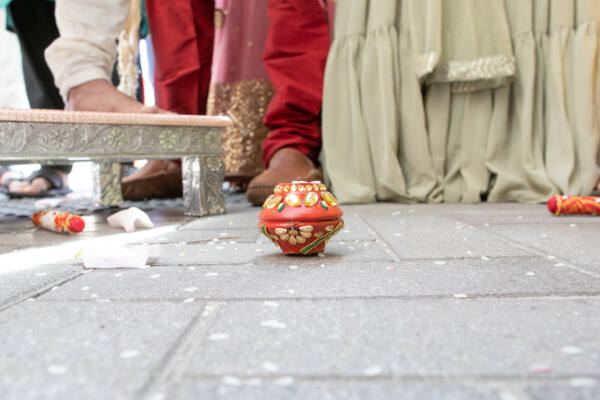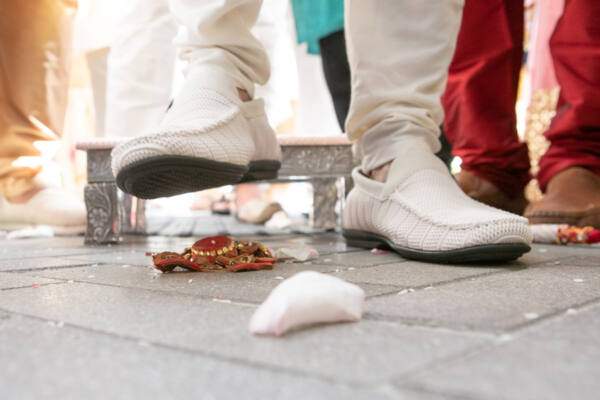 The ritual of the Indian groom breaking a clay pot with his foot is known as "Pani Grahan" or "Ghadoli." It is a traditional custom that is observed in some regions of India, particularly in Gujarati and Marathi weddings. The breaking of the clay pot holds symbolic significance and represents the groom's strength, vitality, and ability to overcome obstacles.
Here's an explanation of the ritual and its meaning:
Symbolic Breaking of Barriers: The clay pot, also known as a matka or ghada, symbolizes the barriers and challenges that the groom may encounter in his married life. By breaking the pot with his foot, the groom demonstrates his strength, determination, and ability to overcome obstacles that may come his way.
Asserting Dominance: Breaking the pot with his foot is also seen as a symbolic act of the groom asserting his dominance and power within the household. It signifies his ability to protect and provide for his bride and future family.
Test of the Groom's Agility: The act of breaking the pot requires agility and skill. It is believed to demonstrate the groom's physical prowess and readiness to take on the responsibilities of marriage.
Auspicious Sign: The breaking of the pot is considered an auspicious sign, as it is believed to bring good luck and prosperity to the couple's marital journey. It is seen as a positive start to their new life together.
The ritual of breaking the clay pot is often performed during the wedding reception or post-wedding ceremonies. The pot is usually filled with milk, curd, or colored water, symbolizing abundance, purity, and vibrant blessings for the couple.
It's important to note that customs and traditions can vary across different Indian regions and communities. The significance and specific rituals associated with the breaking of the clay pot may differ depending on the cultural context and individual family traditions.