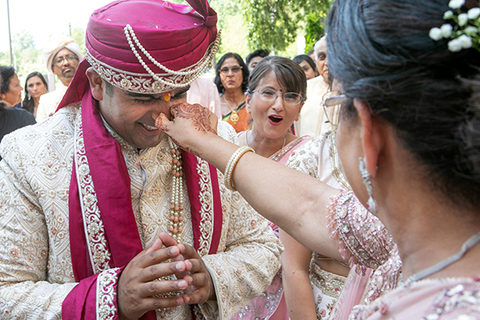 The act of the mother of the bride playfully pinching the groom's nose is a lighthearted and jovial gesture known as "naak chhidwana" or "naak kichna" in some North Indian wedding traditions. It is a fun and symbolic gesture that adds a touch of humor and playfulness to the wedding rituals. The specific meaning and significance behind this act can vary depending on regional customs and family traditions.
Here are a few possible interpretations:
Welcoming and Asserting Authority: The pinch on the groom's nose by the mother of the bride is often seen as a playful way for the bride's family to welcome the groom into their home and assert their authority in a light-hearted manner. It signifies that the groom will be embraced as a part of the bride's family, but also reminds him of their love and affection while setting the tone for a friendly relationship.
Ensuring the Groom's Obedience: In some traditions, the pinch on the groom's nose is believed to remind him to be obedient and respectful towards his new family. It serves as a gentle reminder to the groom to uphold his responsibilities and honor the wishes of his bride's family.
Blessing for Good Luck: The act of pinching the groom's nose can also be seen as a symbolic blessing for good luck and a happy married life. It is believed to bring joy, laughter, and happiness to the newly married couple as they embark on their journey together.
It's important to note that the pinch on the groom's nose is a playful and light-hearted gesture meant to create a joyous and lively atmosphere during the wedding celebrations. It is not intended to cause discomfort or harm but rather to add an element of fun and create lasting memories.