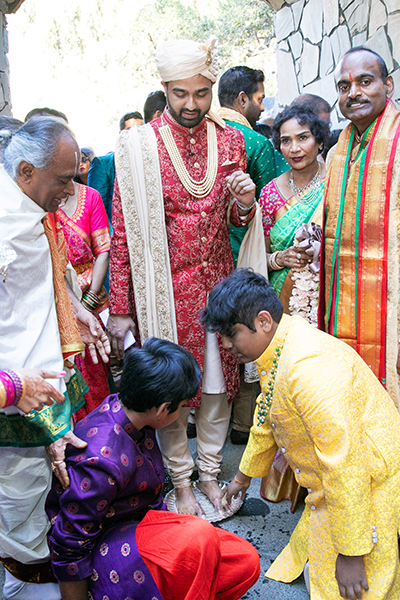 The ritual of washing the feet of the groom at an Indian wedding is known as "Paada Pooja" or "Pada Puja." It is a traditional ceremony that holds cultural and symbolic significance. The ritual is typically performed by the bride's parents or close relatives and involves washing the groom's feet with water and various auspicious substances.
The act of washing the groom's feet during the wedding signifies several things:
Symbol of Respect: Washing the feet is a gesture of respect and honor. By performing this ritual, the bride's family shows their reverence and acceptance of the groom into their family.
Purification and Welcoming: Washing the feet is considered a purifying act. It is believed to cleanse the groom's feet from any impurities and negative energy, symbolically preparing him for the auspicious wedding ceremony. It is also seen as a way of welcoming the groom with love and warmth.
Symbol of Humility: Washing the feet is a symbol of humility and servitude. It signifies the bride's family's commitment to serving and taking care of the groom as a member of their household.
Blessings and Good Wishes: As the feet are considered sacred in Indian culture, washing them is seen as an act of bestowing blessings and good wishes upon the groom. It is a way for the bride's family to convey their well-wishes for a prosperous and harmonious married life for the couple.
Acknowledgment of the Groom's Role: In Indian weddings, the groom is regarded as the provider and protector of the bride and the family. Washing his feet is a symbolic recognition of his important role and responsibilities within the marital relationship.
The Paada Pooja ceremony varies in different regions and communities within India. Sometimes, the ritual may also involve applying turmeric paste, vermilion (sindoor), and sandalwood paste to the groom's feet as additional blessings and symbols of auspiciousness.
Overall, the ritual of washing the groom's feet at an Indian wedding is a profound gesture representing respect, purification, humility, blessings, and the welcoming of the groom into the bride's family.