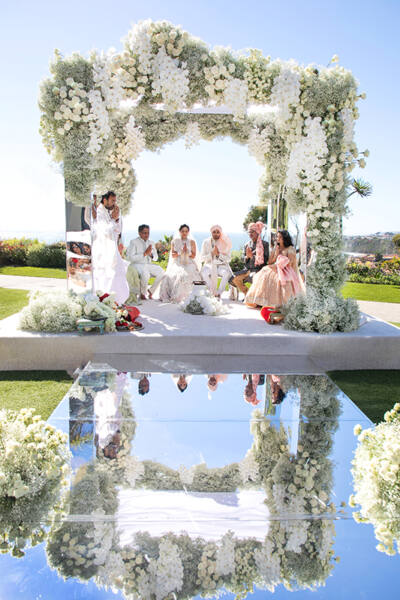 Puja, also spelled pooja, is a ritualistic worship practice performed in Hinduism and some other Indian religions. It is a way for brides and grooms or devotees to establish a spiritual connection with a deity, seek their blessings, and express reverence and gratitude. Puja can be performed in various settings, including homes, temples, and public spaces.
The word "puja" is derived from the Sanskrit root "pūj," which means "to honor" or "to worship." It involves a combination of physical, verbal, and mental acts of devotion. The specific rituals and procedures of puja may vary depending on the deity being worshipped and regional customs, but the core elements remain similar.
During a puja at a Indian wedding, the priest prepares a sacred space and sets up an altar or shrine dedicated to the deity, most likely Lord Ganesh. The altar is adorned with flowers, incense, lamps, and other offerings. The puja typically involves the following elements:
Invocation: The puja begins with the chanting of mantras and the ringing of bells to invoke the presence of the deity.
Offering: Devotees (The families as well as the Bride and Groom) offer various items such as flowers, fruits, sweets, water, incense, and sacred ash to the deity. These offerings symbolize respect, love, and gratitude.
Prayers and Mantras: Devotees recite prayers, hymns, and mantras dedicated to the deity. These sacred chants are believed to have a purifying and uplifting effect on the mind and soul.
Arti: Arti is a ritual in which a lamp with a lighted wick is waved in front of the deity while singing devotional songs. It signifies the removal of darkness and the manifestation of divine light.
Meditation and Contemplation: Devotees often engage in silent meditation, focusing their thoughts on the deity, and seeking spiritual connection and blessings.
Puja can be performed by individuals or in a group setting, led by a priest or knowledgeable person. It is considered a deeply personal and intimate practice that allows devotees to express their devotion, seek divine guidance, and cultivate a sense of spiritual well-being.
Apart from personal pujas, there are also elaborate temple rituals and festivals where pujas are conducted on a grand scale. These events often involve processions, music, dance, and community participation, creating a vibrant and joyous atmosphere of devotion and celebration.