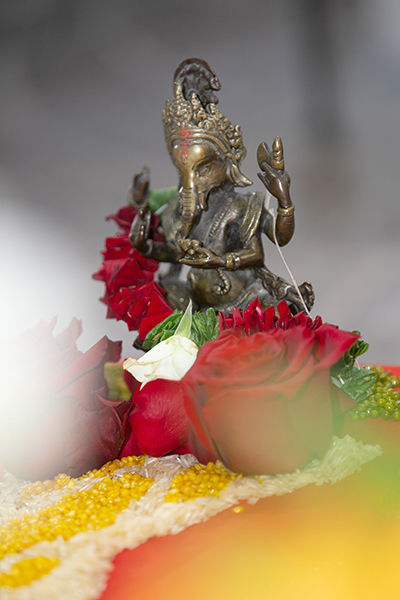 Lord Ganesh, also known as Ganesha or Ganapati, is one of the most widely worshiped deities in Hinduism. He is revered as the remover of obstacles, the patron of arts and sciences, and the deva (god) of intellect and wisdom. Lord Ganesh is depicted with the head of an elephant and the body of a human. He is usually portrayed with a rotund belly, multiple arms, and rides on a mouse or rat.
In Hindu mythology, Lord Ganesh is the son of Lord Shiva, the destroyer, and Goddess Parvati, the goddess of power and fertility. According to the popular narrative, Goddess Parvati created Lord Ganesh from the dirt and oil of her body and brought him to life as her son. Lord Ganesh was given the task of guarding his mother's chambers, and when Lord Shiva tried to enter, Lord Ganesh refused to let him in. A battle ensued, resulting in Lord Ganesh losing his head. To pacify Goddess Parvati, Lord Shiva replaced Lord Ganesh's head with that of an elephant, and he was brought back to life.
Lord Ganesh is highly revered and worshipped by Hindus, particularly at the beginning of any auspicious event or endeavor. He is believed to bless his devotees with success, knowledge, and the removal of obstacles. Lord Ganesh is also associated with intellect and learning, and many students and scholars seek his blessings before beginning their studies or examinations.
The bride, the groom and the families often pray to Lord Ganesh by chanting his mantra "Om Gam Ganapataye Namaha" and offer him flowers, sweets, and modak (a type of Indian sweet) during worship. His festivals, such as Ganesh Chaturthi, are celebrated with great enthusiasm and involve the installation of Ganesh idols, music, dance, and community gatherings. Lord Ganesh is not only revered by Hindus but has also gained popularity and recognition beyond the boundaries of Hinduism as a symbol of wisdom, knowledge, and good fortune.